The former 90 Day Fiance star Larissa Lima was recently seen asking her fans to unfollow her ex-boyfriend Eric Nichols on Instagram. However, now the Brazilian star is hinting at a surprise wedding with him.
Despite Larissa Lima claiming that she would not get back together, she has written "♡ @ericjosephnichols" on her Instagram bio. Recently, the Brazilian star had taken her IG account for her usual "ask me anything" sessions, where she did some startling revelations. 
One of the 90 Day Fiancé fans wrote, "do you want to get married someday again and have more babies," Larissa replied saying, "Guys, I want to be married. Kids, I don't know because I already have." She goes on to talk about not wanting to be selfish regarding kids and revealed that if the marriage takes place, "it will happen very soon," and that she'll just "post the photo."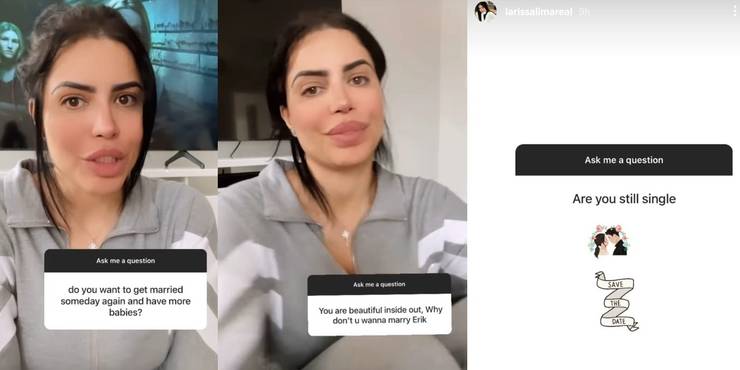 The next fan first wrote a compliment for the star by saying that she's beautiful inside out, and asked, "why don't you wanna marry Erik?" Larissa first said thank you to the fan for the compliment and then even answered the question by saying, "you guys can be surprised, anytime soon. Maybe we be married, nobody knows, right?"  
Later another fan asked her, "are you still single?" and replied with a gif of a bride and a groom with the cryptic text, "save the date."
So let us know in the comment that what do you think will Larrisa get married to Eric? and now for more latest news, keep visiting FlashReporter.com.